North Carolina State Bird
What is North Carolina's state bird?
The North Carolina State Bird is the beautiful red cardinal. The Cardinal was selected by popular choice as our State Bird on March 4, 1943.
Like our North Carolina state flag, North Carolina state flower, and North Carolina state parks, our state bird holds significance to those of us that call North Carolina our home.
The state bird has bright red feathers and because of this it is sometimes referred to as the winter red bird. Unlike most birds, the Cardinal stays in North Carolina all year long and is the one of the most common birds in the gardens, meadows, and woodlands.
The Cardinal makes it's nest from grass and weed stems and build them low in trees and in shrubs. They tend to eat mostly seeds but do treat themselves to small fruits and even insects.

The male Cardinal is red all over, except for the area around its bill and throat which are black. Its head is crested and the large stout bill is red.
The female Cardinal is much duller in color with the red mostly on the crest, wings, and tail. This difference in coloring is common among many birds. Since the female sits on the nest, her coloring must blend more with her natural surroundings to protect her eggs and young from predators that may want to disturb them.
The state bird does love to sing, and when you have had enough of winter, and suddenly hear the beautiful song of a cardinal, it instantly will brighten your day!
Want to know more about our state bird? We like this book.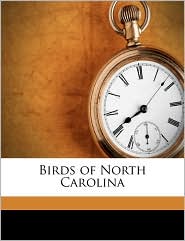 There is so much great information in this book, and you can really learn something! And it's a great gift for bird lovers!
North Carolina lovers gift ideas

Return from North Carolina State Bird to North Carolina Tourism

Return from North Carolina State Bird to North Carolina travel guide